Koach sponsors Orange Soccer Academy for two years.
 We are happy to announce the first academy sponsorship of Koach!
The Orange Soccer Academy signed a deal with Singapore based EduTainment Platform Koach until the end of 2022 and will be proudly displaying our logo on all playing and coaching kit!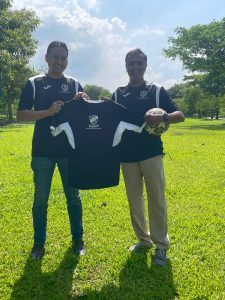 "Our partnership with Koach demonstrates our continued commitment to provide our players with the very best opportunities to develop their ability, both on and off the pitch. With this partnership and training, it's a very exciting time to be a player, parent or coach at the Orange Soccer Academy" said Josh Mountain, the Head/Owner of Orange Soccer Academy.
Koach have created a player education platform which is completely unrivalled, allowing players and parents to access over 100 personalized training videos and with many exciting features to be released in the coming months, including player leaderboards and 'gamification' modules.
"We are proud to have Orange Soccer Academy onboard as our first ever sponsorship. It always has been our purpose to nurture young players, providing them with the required platform to learn and grow within their space'' said Tariq Cassim, the CEO of Koach during the signing of the contract.