Koach Hub and Pasirian Lions FC join forces to revolutionize player development through the use of innovative sports technology!
We at Koach Hub are beyond excited to announce our newest partnership with Pasirian Lions Football Club, a Singapore-based Club that not only focuses on teaching kids how to play football, but also ensures players learn discipline and teamwork while helping them develop a lifelong interest in sports.
Together, Koach Hub and Pasirian Lions FC aim to make youth football accessible, fun, and transformative for young athletes, inspiring them to pursue their passion, and helping them achieve their full potential.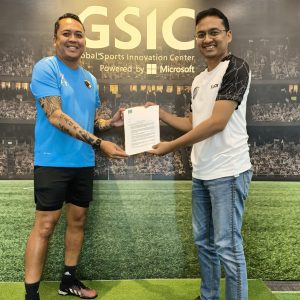 "We at Pasirian Lions FC are very excited to be partnering with Koach Hub to provide technology-based training to the way we communicate and work with our team. With Koach's all-in-one development platform, the coaches at Pasirian Lions FC can stay on top of what is happening in the club, from tracking individual players performance to being able to broadcast messages, schedules to the players directly. In addition to working with Koach Hub for our club activities, Pasirian Lions FC, with our wide partner networks in both the SEA and Chinese markets, will also be showcasing and reaching out to our partners to bring Koach Hub's technology to them. This will further enhance the reach as well as improve on the AI capability of the app." mentioned Ryan Tang, Director of Football at Pasirian Lions Football Club. 
This partnership marks an exciting new chapter for both Koach Hub and Pasirian Lions FC as we work together to revolutionise the world of youth football and take player development to the next level. 
"On behalf of the Koach Hub family, I would like to warmly welcome everyone at Pasirian Lions FC to our platform. This partnership is especially exciting as Pasirian Lions FC will also be yet another club in Singapore to embrace Playermaker's solutions along with their integration to Koach Hub. This integration provides a comprehensive view of player performance data in one centralised location making it convenient for both players and coaches to access and analyse their progress. We are looking at taking this technology within the region as well which will uplift the game as a whole" said Tariq, Co-Founder and CEO of Koach Hub. 
From individual player progress tracking, to scheduling, communicating, match forming, and so much more, our app is an ever evolving, all in one platform created to give clubs the easiest and best experience! 
In conclusion, this partnership between Koach Hub and Pasirian Lions FC is a significant step towards enhancing the development of young athletes and promoting a culture of excellence in youth sports.